As a Creative Writing MA student at the University of Birmingham, I was fortunate to be able to attend this year's National Writers' Conference. The conference, held at the University of Birmingham and run by Writing West Midlands, is an opportunity for writers at all stages of their careers to network with one another and listen to panels of writers, industry professionals, and academics discuss practical and creative advice. We were encouraged to think of the day as an opportunity to network with, and get to know, other writers.
Keynote Speaker
The event started with a keynote speech from writer and publisher Kasim Ali. He discussed the distinction between diversity and representation, as well as the 'wordless feeling' that arises from feeling seen in literature. There is no perfect representation, and no singular perspective, he asserted. But that is why it's important for writers of colour to write 'as many stories as there are to tell.'
Interviews
This empowering keynote speech was followed by a series of panels and interviews with writers and industry professionals. The interviews included Lindsey Davis, a historical novelist born in Birmingham, who began her career in the 1980s. Her interview was candid and inflected with a Brummie sense of humour. She encouraged aspiring writers to keep going and focus on the joy of writing. Not only does writing provide solace and escapism, it brings pleasure to readers, too.
The second interview was with Annabel Brightling, a dark-comedy/drama scriptwriter, who launched her writing and animation project, Winds of Change, at the event. The project was funded by the British Council and a part of the Writing West Midlands' Room 204 Writer Development Programme.
Panels
The panels throughout the day included: How Publishing Works, Writing for TV and Film, Making New Things Happen, Developing Your Creative Practice (which endorsed the Writing West Midlands fund for artists), Writing in Residence, and How Writers Keep Writing.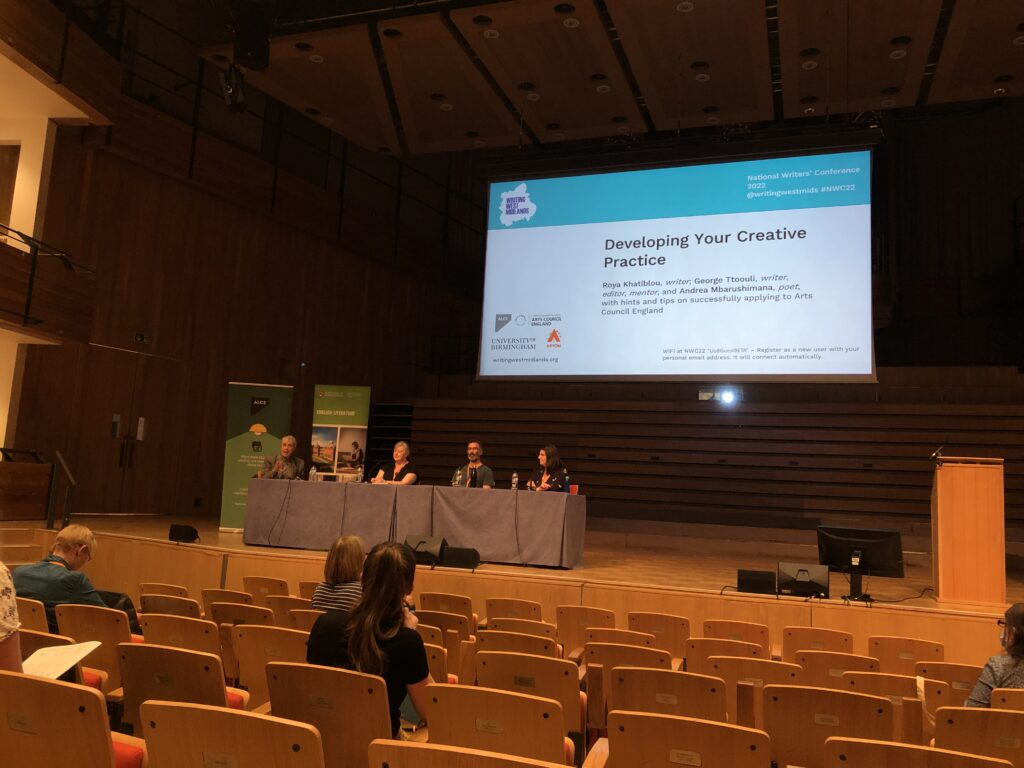 After being introduced to the members of each panel, they were asked focused questions about their practice in relation to the title of the panel. These discussions were followed by a brief Q&A session where members of the audience were able to ask questions about the discussion.
Reflection
There were a diverse range of categories and discussions held over the course of the day. During my Creative Writing MA, we have received visits, talks, and workshops from agents, publishers, and authors, and the conference felt like an extension of these visits, combining practical and creative advice from different fields and industries.
The most valuable lesson I took away was that all writers — regardless of their journey and degree of success — face similar issues when pursuing a career as a professional writer. Anywhere from facing rejections, finding the time to write, and maintaining their ground when it comes to their own artistic integrity.
It is easy to look at someone successful and see only the finished product. We often fail to recognise how difficult and unrewarding the process can be. It is hard to get up in the morning at write. It is hard to believe in a project that is continually rejected. Even after you have established yourself in your field, there will inevitably be obstacles to overcome.
However, the message from the conference was clear. If you love what you do, whether that's writing or publishing or creating art in any form, there are practical ways to keep yourself aligned with whatever goals you set for yourself.